Main Technical specification
Rolling material: 2-3mm thickness, including 5 sets of common moulds
Working speed : 8-10 M/min
Step of rollers : 13 steps
Main motor power : 11 KW
Hydraulic station motor power : 7.5 KW
Material of roller : CR12
Material of main shaft : 45# forged steel, quenching and tempering
Spindle Diameter : ¢85 mm
Wallboard thickness : 20mm
Chain : double-row 20A
Hydraulic station pressure : 10-12MPa
Material of cutting blade : Cr12, quenched.
Seven rollers as flattening, Two rollers as pinching
Electric control system: whole machine adopts PLC (Panasonic) frequency control, Cut-to-length error≤±3mm
Equipment configuration
Feeding device , transmission, main machine and forming roller (including guide table), cutting (after roll forming) device, hydraulic system, electric control system, run out table, etc. Main rack of the machine is processed on the planer type milling machine.
Production process
Manually de-coiling →Guiding & Feeding & Correcting→ Roll forming → Cutting after roll forming → Output product.
Profile (with 5 sets of moulds)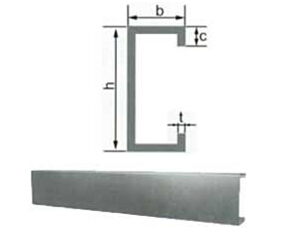 1. h=100mm,b=50mm,c=15mm,coil width=210mm
2. h=150mm,b=50/60mm,c=20mm,coil width=270/290mm
3. h=200mm,b=65/70mm,c=20mm,coil width=350/360mm
4. h=250mm,b=70/80mm,c=20mm,coil width=410/430mm
5. h=300mm,b=70/80mm,c=20mm,coil width=460/480mm